Original character design inspired by the #SpiderSona challenge.
Abroad /

 What if mythological creatures had cultural exchange programs?
Two exchange students must work together to find the mysterious creature that hunts the International School of Mermaids and save the exchange program.
Abroad is a personal project I developed for Pixar's Story Xperiential course and as my animated student film.
I wanted to tell a story inspired by my experience as an immigrant and my love for diverse mythologies.
It was important for me that my characters and looks represented their cultural background and unique personalities so they could stand out in their environment.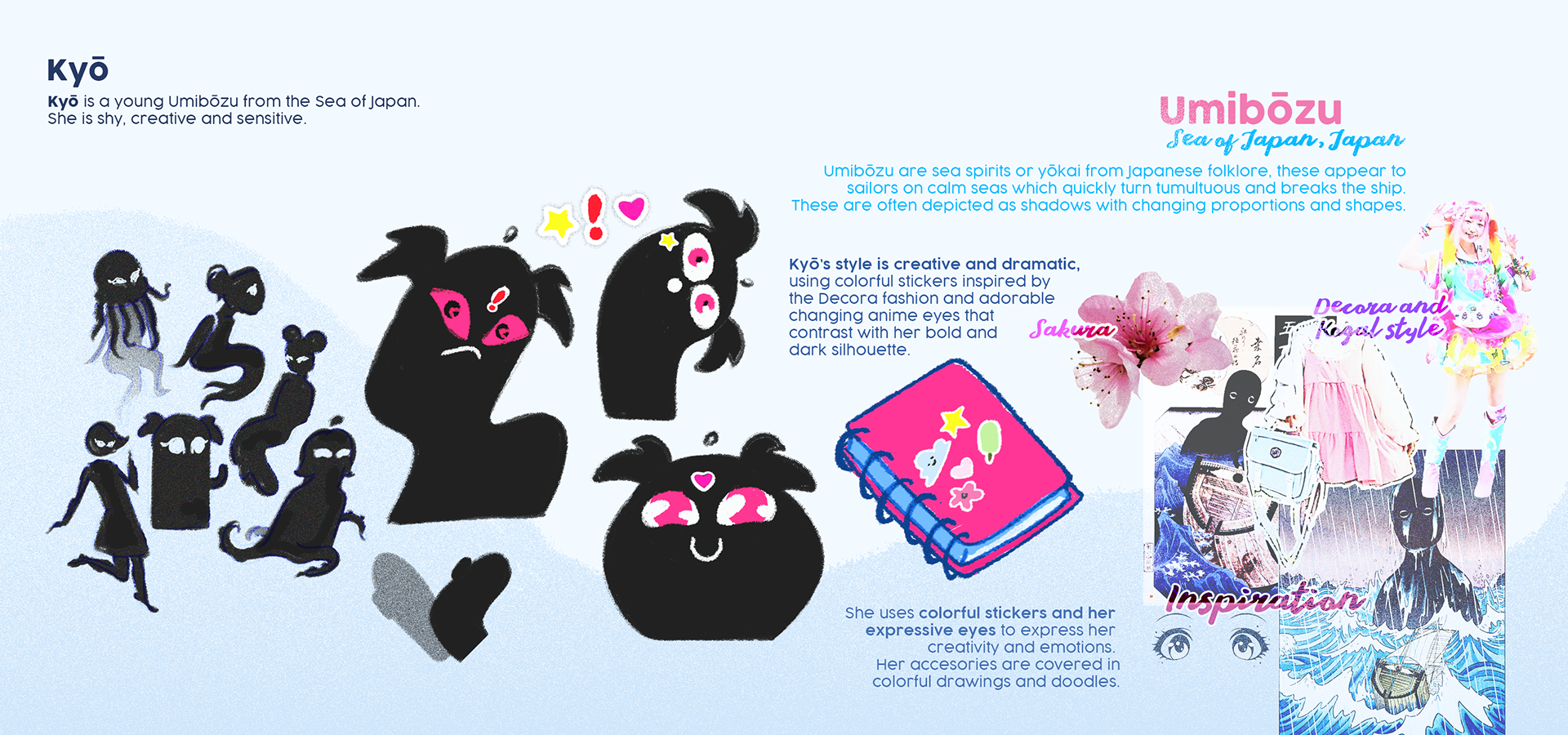 Avatar: The New

Era / Multi-plataform

Audio-Fanfic

by @KukulEstudio
Kukul Estudio

is a collaborative project that allows young creatives to connect and develop original or fan entertainment projects for social media. The diverse skillset of our growing team allows us to create quality innovative content for different platforms while gaining experience in the industry.
For this project I want to
reimagine the Avatar: The Last Airbender universe in a contemporary era
, developing characters that demonstrate the cultural exchange between the different cultures in the show. Although this is an audio-based project, we want to develop different unique looks to complement our audience experience through illustrations and short animations.
Costume development and spooky styling
Day of the Dead/ Halloween 2017 was my last year in college for my Corporate Image BA. I wanted to do something special so I altered my quinceañera gown with the help of my family to dress as a Catrina.
A Catrina is a traditional "sugar skull" costume, therefore I wanted to represent the multicultural background of the Day of the Dead.
 This was a very special project for me as it allowed me to collaborate with my family and learn from their knowledge in garment construction.
During my time in college, I had the chance to develop creative projects to showcase my creativity. 
For Halloween 2015, I designed a costume inspired by the urban legend of "Bloody Mary. For this project, I had to adapt a layered dress, integrating latex prosthetics, and hand-painted the fabric with synthetic blood and fabric paint.
After my second year, I started selling customized hand-painted sweatshirts and embroidered patches. I experimented combining different techniques to enhance a unique handcrafted look.
The Day of the Dead and Halloween are special celebrations for me, I believe this holidays create a cultural connection between Mexico and the United States. Therefore, for Halloween 2020, I decided to create a series of costumes styling daily accessories and clothes.
Children styling and creative activities
I arrived in the U.S. as an AuPair in August of 2019, providing full-time childcare services for an American host family with three girls. 
I helped to style the girls for special occasions and daily activities.  I also aided in the conceptualization and stylization of costumes for Halloween and school spirit events.
Customizing daily garments and common materials to fit different themes.
My schedule changed when the pandemic stroke in the Spring of 2020, allowing me to connect and inspire my girls through creative projects. We created different projects and that allowed the girls to build new skills.
Using recycled materials, I guided the girls in the process of designing and crafting stuffed animals, tailoring and hand-painting garments and accessories
for dolls and themselves.
​​​​​​​
I also had the chance to help the girls 
develop film-related skills such as video production and editing, storytelling, animation, and photography. 
It was an incredible experience to share my knowledge and passion to help these girls to nourish their creativity and inspire them to keep growing as artists.