Hola, Mariana here!
International film production and animation student born and raised in Mexico, passionate about cultural representation and content

creation

for media. After almost four years of experience as an independent multimedia creator, I am ready to pursue a career in film and animation to contribute with a diverse perspective, develop new narratives and unique characters.
I am currently pursuing the Film Production and Animation Certificates at DeAnza College in Cupertino, California. I have lived in the USA for more than three years and gathered both professional and self-taught education in various artistic and creative fields from here and in my home country. This has broaden my artistic perspective and skill.
☼

 Photoshop  

☼

 Illustrator  

☼

 Premiere Pro  

☼

 Adobe Animate  

• 

After Effects  

• 

Maya
• 

Blender  
☼

 Canva   
•  

Microsoft Office  

☼

 MacOs  

• 

Windows
I have contributed to many individuals and organizations as a multimedia artist and independent content creator, diversifying the application of my artistic and creative abilities.
​​​​​​​
☼

 graphic design  

☼

  illustration 

☼

   branding  

• 

apparel customization 
☼  

content creation for social media  

☼

 video production and editing  

 

+

  more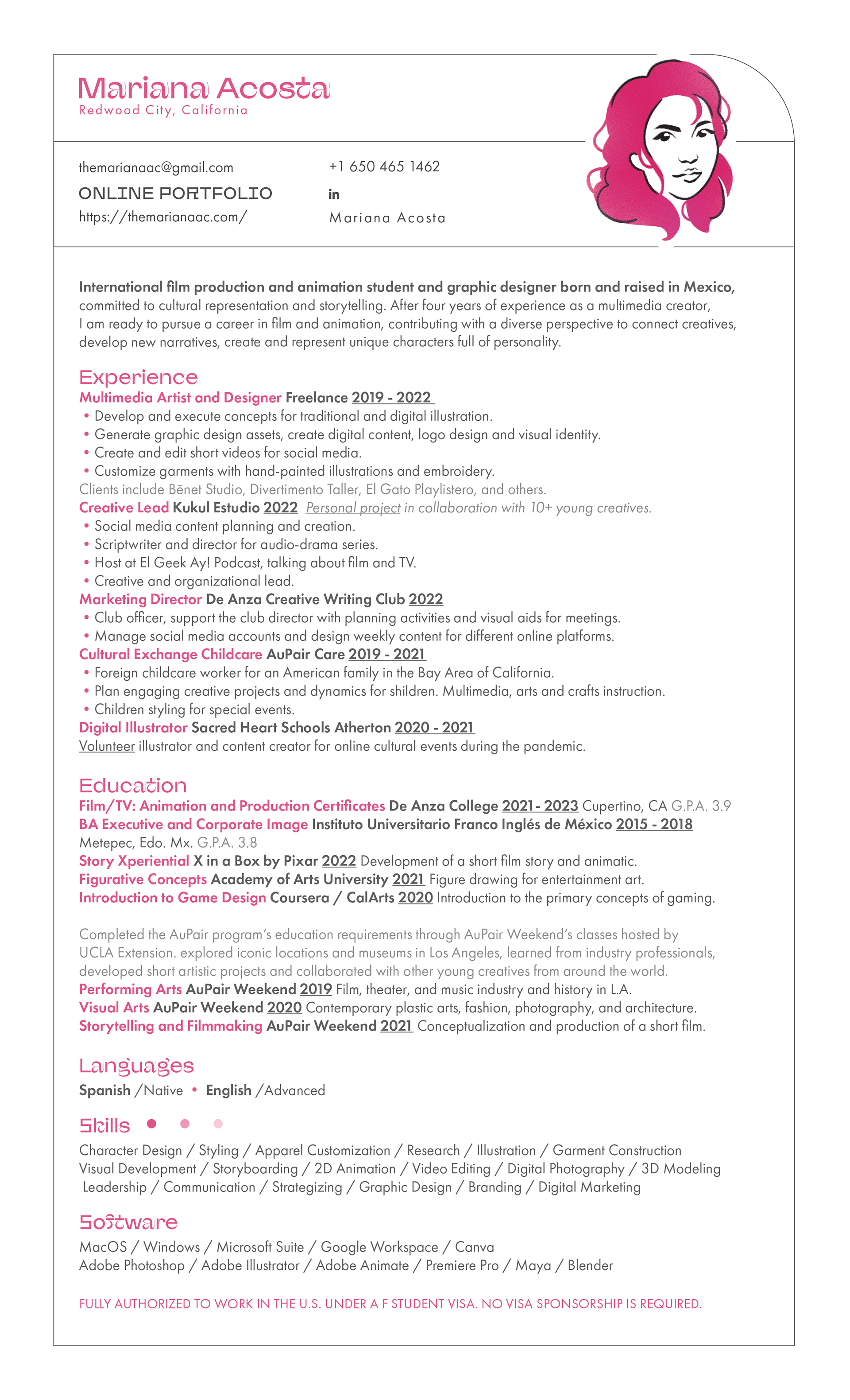 This is an experimental short film showing a contemporary version of the Five Suns is a Mexica creation myth. There were four suns before our own and different deities served the Sun at different times. "In the Beginning" uses different film and animation techniques to represent the cultural and ethnical diversity amongst Mexicans, gathering a team of Mexicans and Mexican descendants to tell the story that started everything.

Produced at the De Anza College Film Department
and the Kukul Estudio's creative team.
We are a creative studio, run by a small group of artists and entertainers, that shares original stories through innovative formats in social media. We draw inspiration from the world and its history to create entertainment for the future.
We create new legends.
We are a bi-weekly podcast where we talk about music, films, books and other pop culture trends, and how they represent and influence our society.
We deconstruct pop culture through our geek eyes.